Newcastle Electrician
Since 2010, Washington Electric has been the first choice of home and business owners who need an electrician in the Newcastle, WA area.
Are you concerned about electric code violations in your home?
Do you have a circuit breaker that trips too often in your office?
Do you need to get new electrical fittings installed in your hotel?
Do you want an electrical panel upgrade for your property?
Our electrician can help. We are full-service electrical contractors. Whether you need an electrician in Newcastle to work on a home remodel project, need an electrician to install an electrical system in your new construction, or want an electrician to fix broken electric wiring, call us.
Newcastle Electricians
Have a sudden power outage in your home and find yourself in urgent need of an electrician outside of regular business hours? Have you developed electrical snags in your facility and are rushing in the dead of the night to call in electricians?
We are 24-hour electrical contractors, offering round-the-clock services of our electrician 7 days a week to deal with exactly such emergencies. We have our electricians available in Newcastle to come to you right when you desperately need us.
Along with timely services of our electricians, we assure you of superior solutions to all your routine and emergency electrical needs. We attend to you with licensed electricians who have extensive experience in all sorts of simple and complex jobs. Our electricians:
Train continually to update their skills
Work with cutting-edge tools
Use top quality products and supplies
Newcastle Electrical Contractors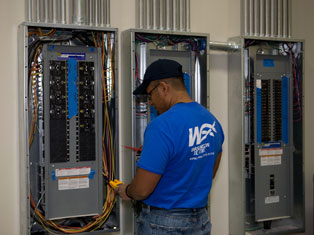 Today's households and work places are heavily dependent on electricity-powered devices. That's why the knowledge and skills of the electrician you hire for electrical installations or repairs impacts your family life or business in a big way.
Do not let the multitude of electrical contractors in the Newcastle area confuse you; choose your electrician wisely.
Let us be your trusted electrical contractors for all your electrical jobs, both now and in the future. Our electricians are ideal in every way and you can feel safe to have them:
Enter your home or commercial establishment
Handle your important and costly electrical system investment
Do work that impacts the well-being of your people and property
Upon hiring us as electrical contractors, you will get the peace of mind that comes from knowing your property and its electrical system are in capable and reliable hands.
Need licensed electricians in Newcastle for electrical work in your home or business place? Call Washington Electric at (425) 332-5855.